We love doing our job and we love sharing it
We can help you create your own apps and define your own strategies
Your specific problems deserve adapted solutions
Successful apps provide an engaging user experience. User experience is not just a matter of user interface, it is also a matter of digital strategy, application definition and technical architecture.
Be sure that we never provide «me-too» solutions to solve your specific problems. We have a recognized ability to build applications and services by focusing on your needs, your wants, your constraints and your feelings, at each step of the design.
Our credo: crafting innovative digital experiences
We are strongly experienced in designing and implementing web and mobile apps. We have a recognized insight on technical platforms and know how to create successful applications respecting platform standards.
We offer you two activities covering all your needs:

We have recognized skills and experience in each step of building apps on top of innovative digital experiences:
Digital
Strategy

From idea to market: analysis, design, prototyping, development, test, optimization, deployment to market, lifecycle follow-up, analytics, ROI
Choosing the most adapted platform in function of your objectives and constraints
Placing ahead your uniqueness and differentiators
Building and coaching your team
App
Definition

Defining app's main purpose and its intended audience
Turning idea and feature list into a coherent and useful app
Understanding users behavior, business and requirements
User
Interface

Graphic design: creating a user-friendly and visually delighting app
Interaction design: creating an easy-to-use and efficient app
Accessibility: creating an app usable for everyone
Technical
Architecture

Creating an app which takes advantage of platform technologies and performance
Designing and writing code to implement evolutive and flexible app
Refactoring or optimising code to improve app performance
Integrating app with an existing information system
And we have strong skills and experience in the following technologies: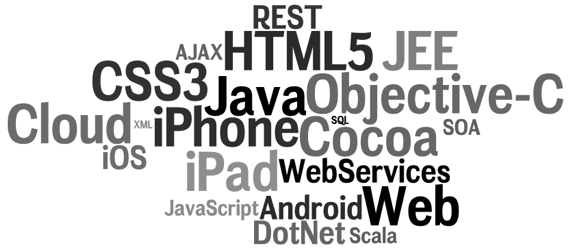 Want some references?
François Goldgewicht, Wonder Labs founder and CEO, has 14 years experience as developer, architect, expert, team leader and trainer for various companies:
He also takes part in conferences, gives interviews and writes articles.
Did you know?
We spend 15% of our time doing technology watch to bring you innovative solutions.